Kebab is a sandwich that young people love to eat. More commonly known as "Greek", it is THE sandwich eaten at the end of the evening to calm cravings. But where does kebab come from and why do some people call it "Greek"?
Kebab is a sandwich-shaped dish also called "Greek". This sandwich, which is generally sold in a fast food restaurant, has no connection with its middle name "Greek". But why do some call it that?
See also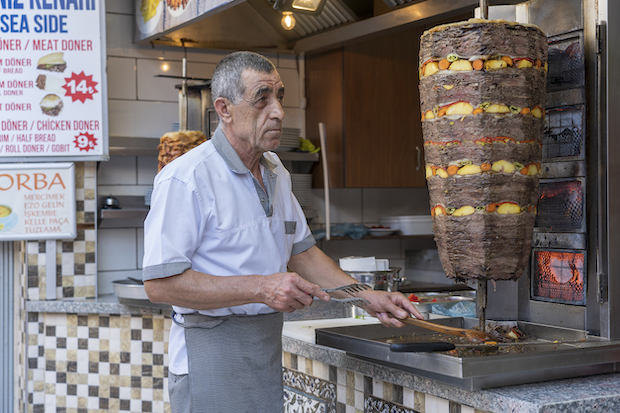 Fast food restaurant selling kebab sandwiches. Credit: iStock
Kebab is a dish of marinated meat cut into several pieces. The meat is skewered and grilled before cutting it into strips. This sandwich, eaten 350 million times a year, can be served directly in Turkish bread, Lebanese bread (shawarma) but can also be served on a plate. Lamb is often the meat used in fast food places for kebabs. However, it is also possible to have beef, veal, chicken and turkey, as kebab has many variations.
A sandwich that doesn't come from Greece
From a lexical point of view, the term "kebab" is borrowed from the Arabic کباب, kabāb which means "grilled meat" or even "grilled meat" (often mutton or lamb). In France and French-speaking countries, the word "kebab" is used to refer specifically to the sandwich filled with grilled meat on a spit (kebab dinner). This sandwich was popularized in Berlin, Germany in the 1970s.
The kebab also designates the type of restaurant, fast food, that serves it. We often hear "Will we eat at the local kebab? " or its variants "kebab dinner and shawarma. Phish kebab is a Greek specialty, but the sandwich is totally different from Turkey. The dish, in fact, is made up of small lamb meatballs marinated in different spices. The latter are covered with fresh cream or yogurt, tomato sauce and pickled peppers.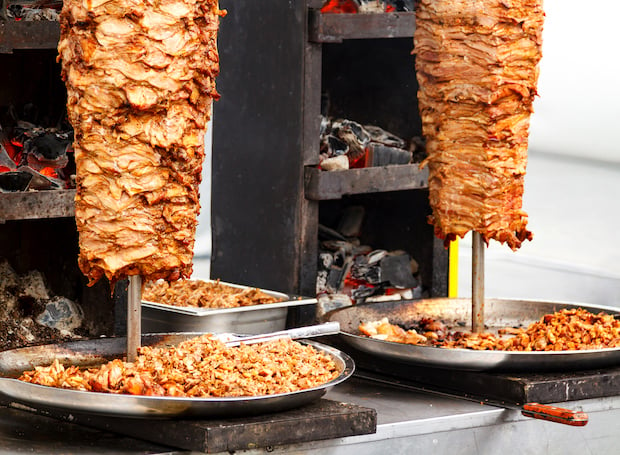 Vertically grilled lamb skewer. Credit: Istock
The origin of the kebab
The kebab was invented in the 1970s in Berlin, Germany. However, the kebab was invented by a Turk, Mehmet Aygün. This man came up with the idea of ​​mixing vegetables with this grilled meat, the star product of the kebab in a Turkish bread. Already in the 11th century, the first traces of kebab were found in Turkish culinary treatises.
As for the name that was chosen for this dish, it is simply because the name "kebab" comes from "kepa", the cooking method used for this meat invented by the Turks.
According to the legend, it is also said that during the Ottoman Empire pieces of meat were cooked with the sword and roasted over a wood fire. It wasn't until 1830 that a man named Amis Oustaz decided to put the cooking spit vertically and not horizontally. It was inspired by this method of cooking kebab meat that Kadir Nordmann decided to use the same process by adding bread. Thus was born the kebab sandwich.
Kebab goes around the world
The kebab was first offered in Paris by restaurateurs of Greek origin and has established itself in several districts of Paris, including many in the Latin Quarter. The French quickly adopted this sandwich and renamed it "Greek sandwich". Since then, this naming error has spread to the rest of France. However, in the south of France, for example, the name "kebab" is more used. In the north it is called "döner".
In the rest of the world, its name is also different. For example, in the Middle East but also in the Maghreb, the terms "Greek" and "kebab" are not used to call this sandwich. We rather say "chawarma". In Greece we speak instead of "pita" for bread, "kebap" or "gyros", a Greek derivative of the Turkish dish döner kebab consisting of meat, tomato, onion and tzatzík sauce, all served in pita bread.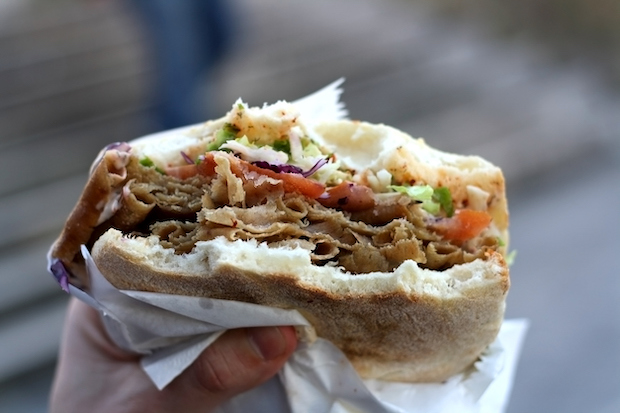 Kebab sandwich. Credit: Istock
Cooking the kebab
The word "kebab" means to grill, the cooking method used to cook that particular meat in the sandwich. If there are several kebab recipes, it is the unique taste of this meat, Turkish meat, that has made this sandwich popular in fast food restaurants around the world. In fast food restaurants, kebab meat is cooked on a vertical skewer in a machine that turns on itself.
The meat that is often chosen for the kebab sandwich is lamb. And the piece is not chosen at random. If you want to do it at home, choose a less graceful piece, like the shoulder. In fact, kebab is known to be a very fatty and caloric dish. Cut it into pieces and marinate it with onion, paprika, cumin, pepper and olive oil. Once the kebab meat is marinated, just pass it under the grill of your oven.
Homemade kebab recipe
It is very easy to make homemade kebab in a less calorie version than fast food!
Kebab style lamb skewer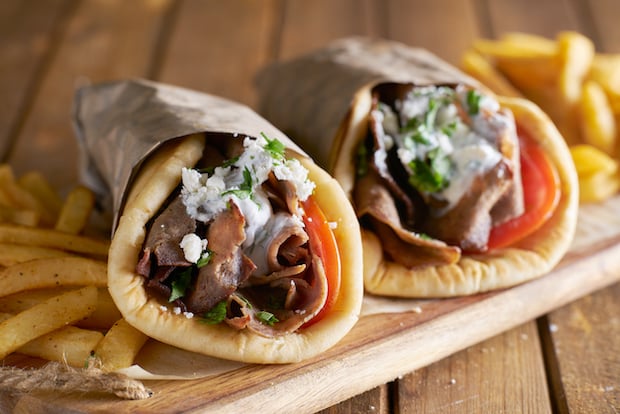 Homemade kebab recipe. Credit: Istock
For 4 people
Preparation time: 15 minutes
Cooking time: 20 minutes
For all scholarships
Ingrediants :
-600 g of lamb meat
-1 onion
-1 clove of garlic
-1 yogurt
-1 lemon
-1 yellow and red pepper
-1 C. turmeric coffee
-1 C. cumin with coffee
-1 C. coffee curry
-1 C. 1/2 teaspoon of coriander powder
-1 C. Ginger coffee
-Salt and pepper
Preparation:
– Cut the lamb into several pieces. Then peel the onion and cut it into several pieces.
-Add the spices, yogurt, lemon juice then salt (slightly) and pepper. Mix everything well.
-Cover the lamb pieces in the marinade, wrap them in plastic wrap and set them aside for at least three hours in the refrigerator.
-To serve in rolled bread or on a plate.