Mother's day 2022, gourmet gifts
The lovely sweets
Picard – Pretty tender chocolate flowers
This non-frozen dessert is a cute trompe-l'oeil made of chocolate and vanilla mousse, creamy pecans and biscuit crumble and whole almonds.
6 people, € 16.99 – Learn more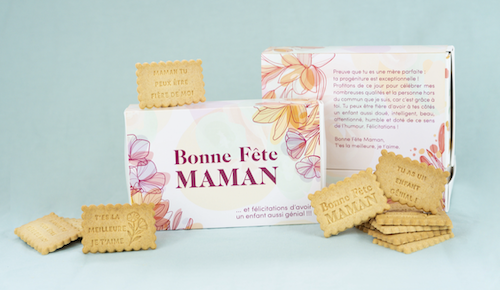 Shanty Biscuits – Box of biscuits with a message
The best proof that moms are great is first and foremost because they have great babies, right? These delicious cookies are engraved with humorous messages such as "Mom, you can be proud of me" or also "You have a great baby. "
Mother's Day box, € 32 – Learn more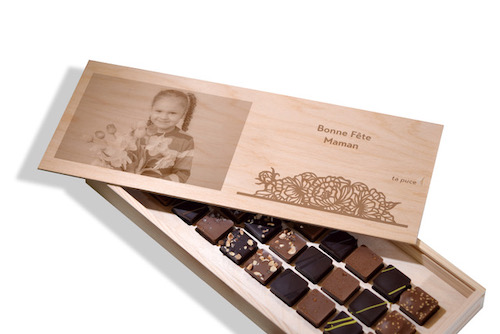 Zero Latitude – Customizable box
To be personalized by inserting a sweet note and a beautiful photo, this wooden box contains an assortment of 30 delicious chocolate candies (hazelnut or almond pralines and ganache flavored with fleur de sel, coffee, passion fruit, coconut …
Customizable wooden box, 45 € – Learn more
La Fabrique Cookies – Mother's Day Box
With 4 best-selling recipes, with unrivaled tenderness, this box contains 8 delicious heart-shaped cookies to declare your love to your mother.
Mother's Day Box – Limited Edition (2 milk chocolate biscuits, 2 dark chocolate biscuits, 2 salted butter caramel biscuits, 2 pink Lyon praline biscuits), € 16 – Learn more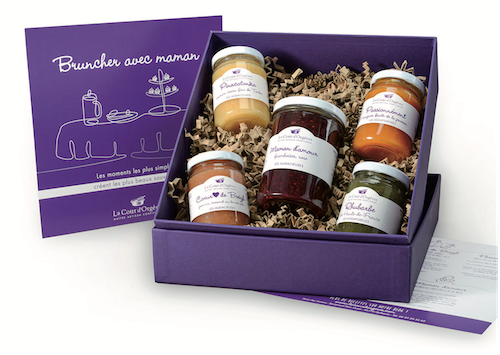 La Cours d'Orgères – Box "Bruncher with mum"
La Cour d'Orgères offers a lovely box of 5 jars of jams – Maman d'amour, Rhubarb des Hauts de France, Pinacotonka, Passionnément and Cœur de Breizh – as well as an illustrated card with culinary tips.
Box, € 27.20 – Learn more
Pierre Marcolini – Malline Origami
Signed by designer Charles Kaisin, this limited edition box contains 9 origami-shaped chocolate birds filled with lemon praline, hazelnut praline and salted butter caramel.
Malline Origami, 39 € – Learn more
To the Mother of the Family – Box to My Mother of the Family
Mendiants, hearts of dark and milk pralines, candied oranges covered with chocolate, milk and dark snacks, almonds and hazelnuts covered with dark and milk chocolate, this box is made up of typical recipes of the house of the House.
Box To My Mother of the Family, 26 € – Learn more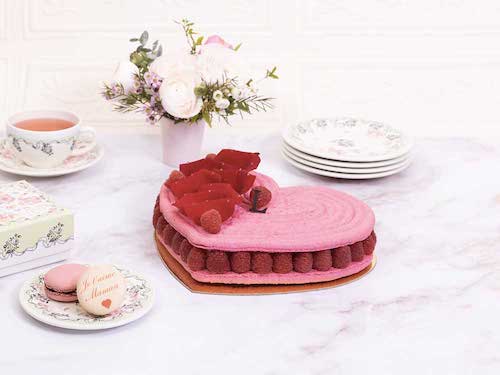 Ladurée – Ispahan
This essential of Parisian pastry: an extraordinary amaretto that combines the elegance of a rose cream, the freshness of raspberries and the delicacy of lychees is declined in the shape of a heart, the moment of Mother's Day at Ladurée.
Available only from 27 to 29 May 2022 – Learn more
Kayser House
This ephemeral creation consists of a Breton shortbread, a raspberry financier, vanilla and tonka bean mousse, whipped vanilla ganache, all topped with lime zest and fresh raspberries.
From 4 to 6 people, € 24 – Available from 27 to 29 May – Find out more
Bonne Maman – 10 ways to say I love you
A gourmet and unique box of 10 exclusive recipes that combine the good taste of fruit with subtle notes of flowers and delicate plants: Cherries with Hibiscus Flower, Peaches with Jasmine Flower, Apricots with Lavender …
Box, € 19.90 – Available online
Benoît Castel – Absolutely for mom
Carrément pour Maman is a gourmet and light Charlotte made from coconut spoon biscuit. We then dive into a supreme of homemade yogurt, topped with a strawberry and raspberry compote with ginger.
6 to 8 people, € 42 – Find out more – © Guillaume Czerw
Le Boulanger de la Tour – Strawberry cake
A seasonal, ultra-light recipe consisting of a spoon biscuit soaked in fresh strawberry juice accompanied by a creamy strawberry mousse, a compote of semi-candied strawberries and fresh ciflorette.
For 4 people, € 32 – Find out more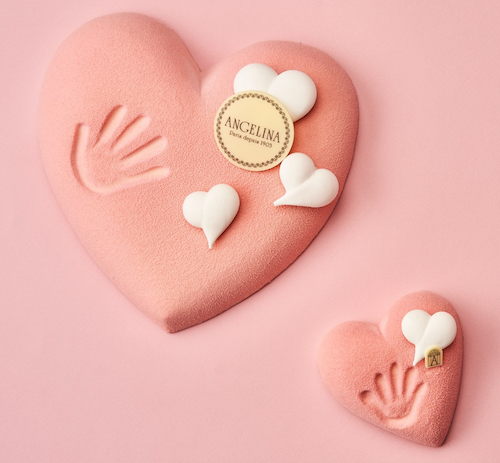 Angelina – Imprint
Christophe Appert, Pastry Chef of the House of Angelina, imagined a dark pink heart made up of meringues, a light nougatine mousse and a compote of blackberry ganache, red currant, black currant and vanilla.
For 6 people, € 38 – Find out more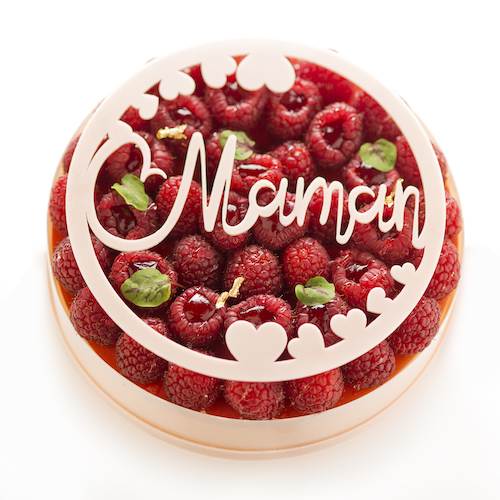 Vincent Guerlais – Mama's ruby
Pure pampering with its delicious biscuit base and crunchy almond, covered with a vanilla mousse with a heart of rhubarb and lychee compote, all enriched with fresh raspberries.
For 6 people, € 34 – Find out more
Lenôtre – Flower cake
Fruit of the collaboration of Guy Krenzer and Héloïse Brion aka Miss Maggie's Kitchen, the Flower Cake, covered with whipped cream lightly flavored with orgeat syrup, is composed of a creamy lemon with fresh mint and a strawberry jelly dotted with fresh strawberries, set between two layers of soft almond biscuit.
For 5 to 6 people, € 55 – Find out more
---
Savory delicacies
Monoprix – Olive oil Alexis Munoz
Created with the chefs, for the chefs, this extra virgin olive oil is obtained from the cold extraction of ripe Arbequina olives for a sweet and fruity oil with an apple nose.
50cl, € 7.99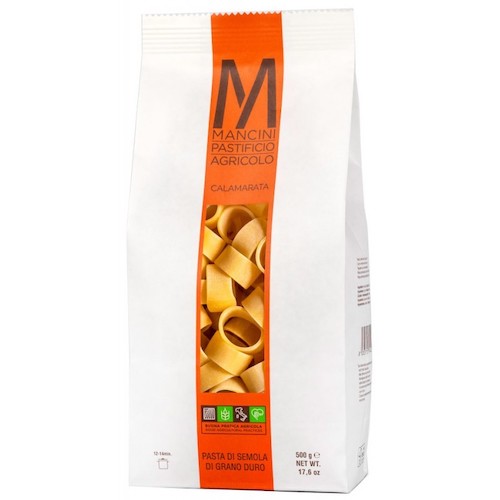 Pasta Mancini – Calamarata
This Italian artisan pasta, made from durum wheat grown by Pasta Mancini, is particularly suitable for seafood and fish.
500 g, € 4.90 – Available online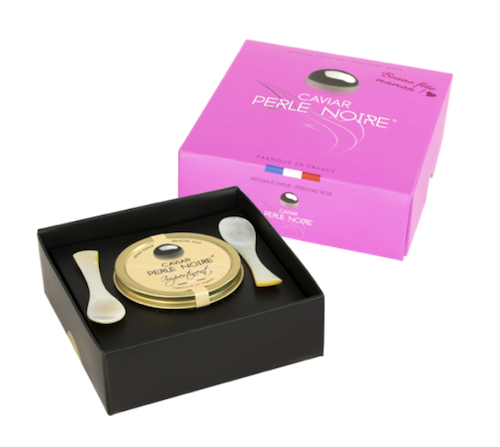 Black Pearl Caviar – Mother's Day Box
In this box, accompanied by 2 tablespoons of mother of pearl, Baerii Impertinent caviar was chosen, soft on the palate, with buttery notes and a nutty finish.
Available in 30g, 50g and 100g, starting at € 59 – Available online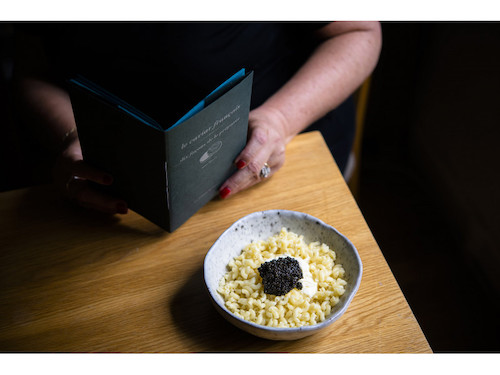 Sturia x French Caviar, 10 ways to prepare it
For Mother's Day, Sturia invites you to discover its caviar through the prism of cooking and experience with the book by Anne Etorre, published by Editions de l'Epure, which demonstrates, in 10 easy and tasty recipes, that the caviar goes with everything.
15% discount on the order when purchasing the book "French caviar, 10 ways to prepare it" by Anne Etorre associated with the purchase of Oscietra or Vintage Caviar with the code PARENTSDAY22 – Find out more
---
Practical tools
Sodastream Art
Sodastream proposes its new Art machine in ice blue and tangerine to add color to the kitchen.
From 129 € – Find out more
Bentjeman & Barton – Vintage teapot
The Parisian tea house unveils an exceptional collection of vintage teapots. Produced in very few copies according to the artisan know-how, they are real works of art imagined by the most famous designers of fantasy teapots in the world.
From 25 € – Available in very limited quantities e on request
Moulinex – Eco Respect vegetable cutter
For easy slicing, slicing and grating, this vegetable cutter allows you to make beautiful salads of raw vegetables, grated cheese, chocolate flakes, all effortlessly.
€ 74.99 – Find out more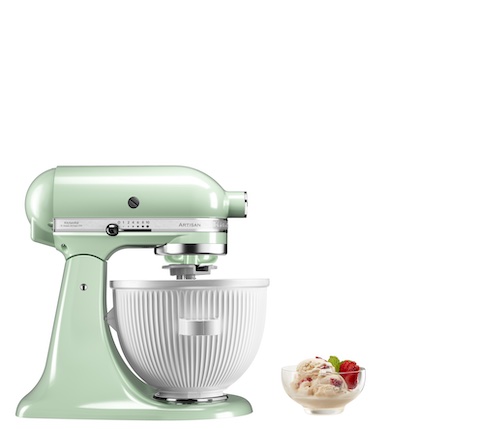 KitchenAid – Ice cream maker
The ice cream maker transforms the KitchenAid planetary mixer into a real ice cream machine to create ice creams and sorbets in less than 30 minutes.
149 € – Find out more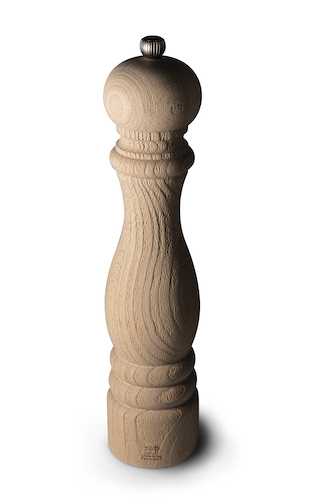 Peugeot Saveurs – Moulin Nature, Paris model
In reclaimed raw wood, this pepper or salt mill grinds to perfection.
30 cm, 55,90 € – Find out more
Staub – Stackable set
Consisting of a saucepan, a frying pan, a frying pan and a lid, stackable for practical storage, this cast iron set allows you to cook everything.
24 cm – € 379 – Available in red or black on Zwilling
Monbento – Customizable Tropic Collection
The MB Original by monbento has three new designs and is personalized with the name or initials of the person to whom it is offered.
€ 47.90 – Customization, € 5 – Find out more
---
Alcoholic beverages
The spring of cider
To get to know the diversity of ciders and the richness of their aromas, the Printemps des Cidres box offers an original tasting experience of the 5 styles of cider to be enjoyed as an aperitif or as an accompaniment to the typical dishes of this season, with which they are combined perfectly: grilled meats, cooked vegetables, hearty salads, fruit and desserts.
5 bottles of 33 cl, 39 € – Available online
Lillet – Anniversary Edition
For its 150th anniversary, the Bordeaux aperitif asked Parisian illustrator Alice Des to dress her bottle of Lillet Blanc highlighting the signature cocktail recipe of Sasha, a Parisian bartender. On the back of this anniversary bottle? A QR code that gives access to the map of the brand's partner businesses.
Bottle, € 12
Côquetelers – Melon liqueur
Very ripe Cavaillon melon with a finish on… very ripe Cavaillon melon to be enjoyed as a spritz, alone with an ice cube, in a cocktail or even diluted in sparkling water.
70 cl bottle, 42 € – Available at wine shops and online
Rock'M Roll – Agathe, Rosé d'Anjou
Frank and delicate, Agathe has a subtle sweetness and releases intense notes of fresh red fruits. This Rosé d'Anjou will perfectly sweeten red fruit desserts at the end of a meal.
75 cl bottle, € 6 – Available at wine shops and online
June Vine peach and summer fruit
Distilled, infused and handcrafted in France, June Pêche de Vigne & Fruits d'été releases elegant and gourmet aromas of peach from the vine. Its flavors are revealed perfectly in a June Spritz for a fresh and sparkling cocktail in the mouth.
70 cl bottle, € 29.90 – Available in wine shops and supermarkets
---
The wise man drinks
Gimber – Limited Edition
The iconic Gimber N ° 1 Original unveils the new limited edition box with little phrases that evoke childhood memories, such as "To all the mothers who have told us 100 times to clean our room, who have defended us every time the parents met and yet they got angry in the car … "
Bottle, 70 cl, € 29.95 – Available in delicatessen and on line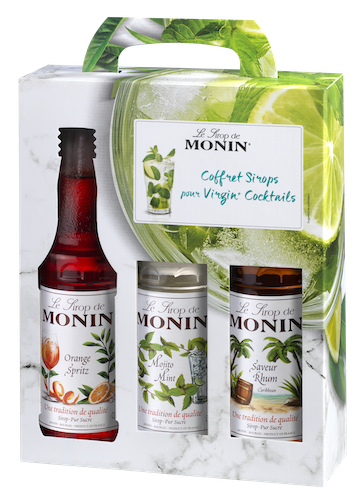 Monin – Syrups box for Virgin Cocktails
For tasty non-alcoholic cocktails, Monin has brought together 3 25cl bottles of Rum, Orange Spritz and Mojito flavored syrups, accompanied by several inspiring recipes.
Box, € 14 – Available in delicatessens and online
Palais des Thés – Iced tea box
The Palais des Thés has brought together 4 tasty limited edition iced teas in a pretty box: Summer Fizz, Juicy Sunrise, Sorbet Gourmand and Exotic Party.
Box of 4 miniatures of 35 g each – Available in stores and online – © Guillaume Czerw
Lyre's – Pink London Spirit
Among the newcomers to the Australian alcohol brand, Pink London Spirit is a non-alcoholic rosé gin with aromas of roses, cherries, red fruits and blackberries. It is best enjoyed with lemonade or grapefruit drink with slices of fresh strawberries, a sprig of mint and ruby ​​grapefruit.
70 cl bottle, € 27.42 – Available from Drinks & Co and online
Cover image © Lenôtre
ABUSE OF ALCOHOL IS DANGEROUS TO HEALTH, CONSUME WITH MODERATION.