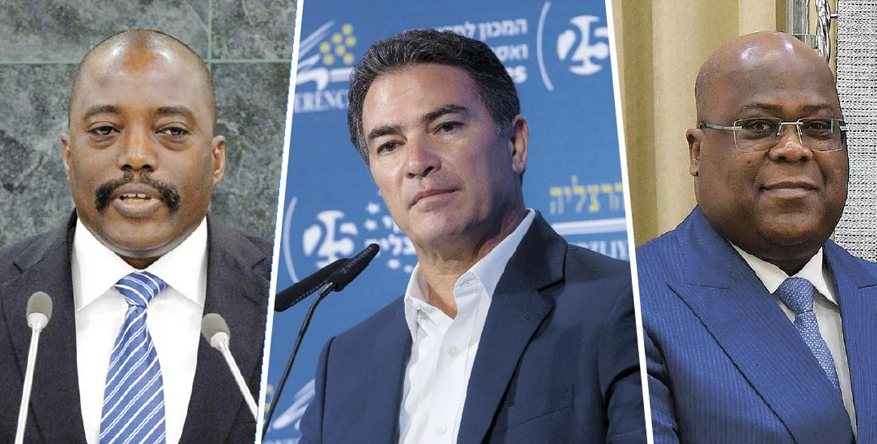 Former senior Mossad officials called Yossi Cohen's conduct "madness" after three trips to Congo on behalf of Israel for problematic purposes whose publication is banned, reports the news site "The Marker", specifying that the visits were not coordinated with the Congolese government and resulted in his expulsion.
According to Bloomberg News, "The Marker" recalls, Yossi Cohen, head of Mossad from 2016 to 2021, traveled three times to the DRC, accompanied by billionaire Dan Gertler, a businessman "suspected by the British authorities of having paid a huge bribe of 360 million dollars in exchange for mining rights in Congo".
During each of his visits, The Marker points out, Yossi Cohen met with the Congolese president, Félix Tshisekedi. "His visits to Congo came as a surprise to Tshisekedi, who was shocked to find that the head of a foreign intelligence agency was in his country without an official invitation or warning."explains haaretz.com.
During his first meeting with the head of state, in the presence of several of his assistants in addition to Gertler, it is said, Yossi Cohen would have offered his help on various issues, such as obtaining defense technologies.
On October 10, 2019, according to Haaretz, Yossi Cohen made his second visit to the Democratic Republic of the Congo. "That day, Tshisekedi flew his presidential plane from the city of Goma in the east of the country to the capital Kinshasa. Shortly after takeoff, another plane in his entourage also took off but crashed soon after. According to various reports, the president's driver, several employees of the president's office and some soldiers were aboard this plane. No one survived the crash, according to these reports "reports the Israeli site.
Fear of a coup
After Cohen's second meeting with the President of the Republic, and because of his ties to former head of state Joseph Kabila, "The Marker" notes, Félix Tshisekedi's entourage became suspicious of the Mossad leader's motives in that moment. "Some of Tshisekedi's aides even expressed concern that Cohen would help Kabila acquire weapons for a coup attempt."says the Israeli site.
A few weeks later, Haaretz continues, Yossi Cohen made his third trip to Congo, this time leading a larger delegation. Once again, he held an unscheduled meeting with Félix Tshisekedi and some members of his cabinet in the latter's office in Kinshasa. "Cohen once again spoke with vague slogans about cooperation between countries. But Tshisekedi was at the end of his patience. At one point, he asked his staff to leave the room so he could be alone with Cohen. At the end of their brief conversation, Cohen was ordered to go directly to the airport, escorted by local security forces, to leave the country and not to return. The head of the Mossad was therefore effectively expelled – an unprecedented and humiliating step – after a series of unscheduled meetings ", indicates haaretz.com.
For the Israeli site, the purpose of Yossi Cohen and Dan Gertler's trips to the DRC remains a mystery to this day. But what has previously been reported, the site continues, is that following these events, Yossi Cohen and then Israeli Ambassador to Washington Ron Dermer lobbied the Trump administration – and in particular then-Treasury Secretary Steven Mnuchin – for lifting sanctions on Gertler and his companies. "Five days before President Donald Trump's term expired in January 2021, the sanctions were effectively suspended." But the suspension of those sanctions was lifted by current Treasury Secretary Janet Yellen a few weeks after his inauguration.