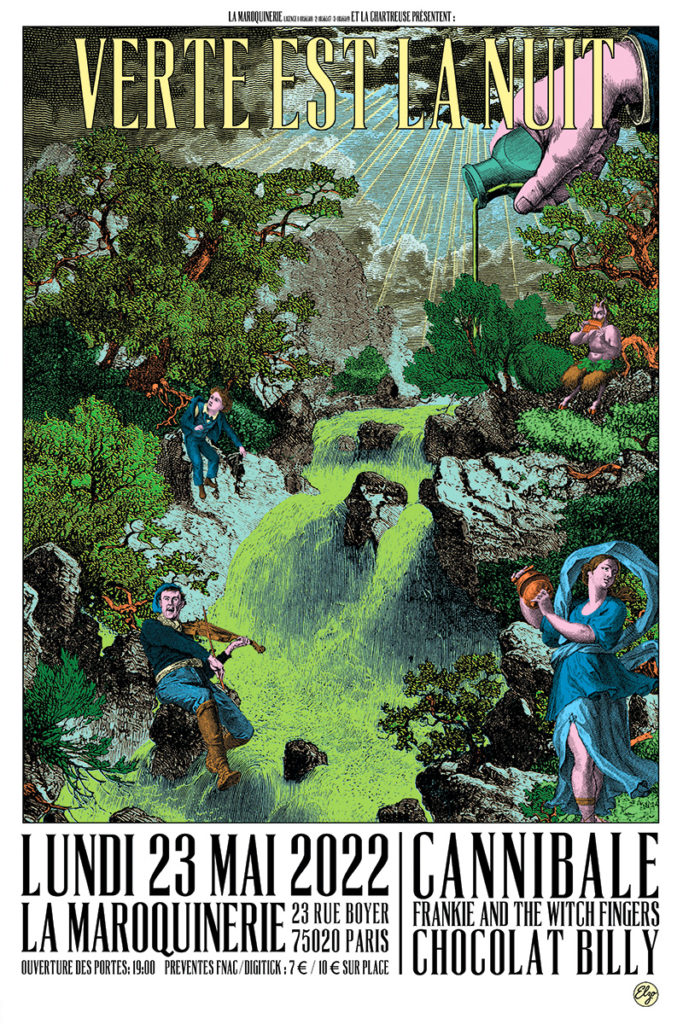 The evening Green is the night at La Maroquinerie it is an opportunity to dive into psych rock, this sprawling movement with a thousand influences. Last night, three examples, all three atypical, different and great, Chocolat Billy, Frankie and The Witch Fingers And CANNIBAL.

Chocolat Billy is a mixed quartet from Bordeaux. As for the presentations, then it becomes difficult to define what this group is. We find pop, psych rock, electro, noise, everything and nothing. In English, in French, in approximation, songs, words, things. In fact, Chocolat Billy is a fantastic mix. 20 years of career, 6 records, the last of which, Le Feu au Lac, released a month ago, is a nugget. All in all, this is how Chocolat Billy sums it up, a fantastic happy brothel.
A happy brothel, these are the first words that come to mind after the Chocolat Billy performance. The mixed quartet offered us an amazing set and the word is weak. Playing, exaggerating not counting, immersed in an impressive energy, the members of the group gave more or less everything they had. Sometimes changing places and instruments, connecting tirelessly, with a few short stages of improvisation, we obtain a garish result. We will remember the trance state of the lead singer, driving the boat of a set in his image, on another planet.
We then escape to the west coast of America for two minutes, to meet one of the psychedelic garage rock bands that are growing very, very strong. This mixed quartet offers an overdose of pure and intense energy on each of its songs, sometimes rather pop, sometimes rather garage, but always with this psyche vibe that delights. 6 albums in 7 years, we're on pretty impressive standards. With a great reputation on stage, Frankie and Witch Fingers are emulated on the other side of the Atlantic. Last night they were in La Maro, we can bet without risking too much that they will soon fill much larger rooms, given the monstrous talent of the group.
Coming out of their pop side, in their suitcases, the mixed quartet Frankie and the Witch Fingers brought back only the big riffs, the big psyche that stains, the fight, what. And it rocked for sure. From the first chords, from the first notes, no second of respite. A burst of energy, from start to finish. Their tracks, sometimes over ten intense minutes long, sizzled from the idle air conditioning. The atmosphere was suffocating, dazzling, insane. Their lead singer, a John Dwyer impersonator, whether in terms of guitar, glasses or style, was in a communicative rage, supported by his equally dazzling acolytes. A psychedelic garage rock delight, a chestnut delight.
How not to love CANNIBALE? This question deserves to be asked as the quintet offers us fascinating music in each of its three works. The latest, Life Is Dead, dating back to last November, is in line with their distinctive style. Combining psychedelic rock and tropical sounds, the quartet offers us soft, cheerful, dancing, intoxicating, sometimes even hypnotic music. The first notes of each piece attract us a blissful smile, and we let ourselves be carried away by perfectly written music, crazy arrangements and sounds, engaging harmonies, in short, we are full of praise for one of the spearheads of the brilliant Born Bad Records label. To be listened to over and over, over and over.
And behold, what had to happen happened. To round off a masterful evening, the CANNIBALE quintet takes the stage. And, once again, from the first notes, the air conditioning is recovering. Waves of sweetness and happiness will pour without ever drying up, transforming La Maroquinerie into a giant dance floor. Because that's where Cannibal is a great group, it's because we don't come to see them for the fight, but to dance, to get carried away by them. guitar music with Caribbean, Brazilian and tropical flavors. Using various percussion, colorful synthesizers, dancing rhythms, Cannibale gave us a breathtaking show, even more impressive than our previous meeting at the Petit Bain. Despite the roughly 120 degree rotating heat in the room, there is no doubt that none of the audience would have been fussy about a set two or three times longer as the concert was such a treat.
Three bands in the most acute of their styles, all together in the same evening for a concert that we will not cease to praise, this Verte est la Nuit # 5 was undoubtedly exceptional. Can't wait for the next one!
Photo credit: Poster by Verte est la Nuit # 5